Lloyd G. Schermer (b. 1927 Saint Louis, MO)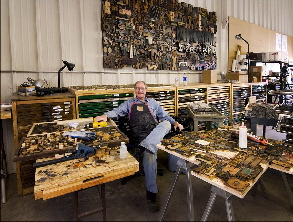 Lloyd Schermer's art career started when he was a ten year old Cub Scout sculpting in clay. Then it went into recess for fifty-five years until he took his first art course at the Anderson Ranch Arts Center, Snowmass Village, CO. During the intervening years he was in the newspaper business surrounded by the very materials that would ultimately become his extraordinary wood type sculptures and monotypes. Johann Gutenberg, a 15th-century German goldsmith, developed a new system of printing that revolutionized the spread of information through the mass production of books, newspapers and other printed materials. His Innovations greatly enhanced the "Age of Enlightenment". Before this breakthrough, pressing hand-carved inked wood blocks against paper, a slow and laborious process, was how most printing was done. Gutenberg invented a process of casting individual pieces of metal type by pouring molten metal into molds, creating reusable letters that could be set into a frame for printing. He developed specialized oil-based inks and designed a new kind of printing press based on a wine press.
The letterpress method of printing dominated the industry for hundreds of years until the advent of photographic typesetting and later, electronic typesetting. As newspapers converted to modern methods of typesetting, the individual pieces of metal and wood block type that had been used for centuries were rendered obsolete and hauled to the dumps. Artist Lloyd G. Schermer, a former Montana newspaper publisher, had rescued these and other materials used in letterpress printing to create one-of-a-kind works of art.
After a century of use, oil based inks have penetrated the wood. Each piece must be sanded on the bottom and four sides to allow the adhesive to hold. Then the printing surface on each piece must be cleaned with a strong solvent to allow the patinas of the seven different woods used to show through. The final step is applying conservator's wax for buffing. Schermer's antique wood type sculptures are an attempt to preserve this unique art form for the ages.
Selected Public and Private Collections:
Smithsonian American Art Museum, Washington, DC
US Library of Congress
The New York Times Conference Center - 15th Floor, New York, NY
The Aspen Institute, Washington, DC
The Aspen Institute, Aspen, CO
Morgan Stanley Board Room

Commissions in Progress:
New York Public Library, NYC, NY
Featuring Gutenberg's innovations and the Gutenberg Bible
Selected Exhibitions:
Ann Korologos Gallery, Basalt, CO
Aspen Art Museum, Aspen, CO
Aspen Institute, Aspen, CO
Jewish Community Center, Tucson, AZ
Tucson Public Library, Tucson, AZ
Magidson Fine Art, Aspen, CO
Red Brick Arts Center, Aspen, CO
Venues:
Jefferson Memoria ARCH Museum, 9 x 4 feet, St. Louis, MO
Library of Congress, Washington, DC - Commissioned by Stephen Evans-Freke, a British/Irish Citizen who donated it to them. 47 x 34 inches
Smithsonian American Art Museum, Permanent Collection, 3rd Floor, 4 x 8 feet
Luce Center for American Art, Washington, DC, 3 monotypes
Newseum Museum Lobby, Washington, DC. 8 x 10 feet
Desert Museum, Theater Lobby, Tucson, AZ. 3 x 12 feet
University of Arizona Museum of Art, Tucson, AZ. 23 x 29 inches and 18 x 22 inches
Figge Museum, Davenport, IA, Museum Lobby. 4 x 9 feet
McCormick Freedom Museum, Chicago, IL. 7' 6" x 3' 8"
New York Times, 15th Floor Conference Center, NYC, NY 2' 5" x 15 feet
Washington Post, Office Door, Don Graham, CEO, 3 x 8 feet
Associated Press, Lobby, NYC, NY 5 x 7 feet
Aspen Institute, Aspen and Washington, DC Lobbies, 5 x7 feet, also bronzes and monotypes
Newspaper Association of America, Lobby, Arlington, VA 4 x 10 feet
Robert Frost Library, Lobby 5 x 7 feet
Amherst College, Amherst, MA
Knight Foundation, Board Room, Miami, FL 4 x 8 feet
Reynolds Foundation, Board Room, Las Vegas, NV 5 x 8 feet
Lee Enterprises Inc., Lobby, Davenport, IA 5 x 15 feet
University of Iowa School of Journalism, Entry Hall, Iowa City, IA 4 x 10 feet
University of Montana School of Journalism, Lobby, Missoula, MT 5 x 10 feet
Ann and Tom Friedman, NT Times, Residence, Bethesda, MD 3 x 4 feet
Morgan Stanley Inc., Board Room 5 x 14 feet and Lobby two sculptures 4 x 5 feet, NYC, NY
Virginia Historical Society, Richmond, VA
University of Illinois, School of Media, Champaign/Urbana, IL 3'6" x 12 feet
Sosland Publishing, Lobby, Kansas City, MO 2'6" x 10 feet
Land Institute, Science Building Lobby, Salina, KS 5 x 4 feet
MICDS School, St. Louis, MO, Olson Building Lobby, 5 x 8 feet
University of Arizona, College of Science, Conference Room, Tucson, AZ 4 x 8 feet
Emma Farms, Emma, CO 3 x 6 feet
University of Denver, Estlow School of Media, Lobby. 4 x 8 feet
Hearst Tower, NYC, NY Monotype
Aspen Physics Center, Lobby, Aspen, CO 3 x 5 feet
Jefferson National Memorial Gateway Arch Museum, St Louis, MO 4 x 8 feet
New York Public Library, NYC

Education:
MA Amherst College
MBA Harvard University
Anderson Ranch Art Center, Snowmass, CO
Awards:
Joseph Henry Medal (Smithsonian's highest award) from the Smithsonian Institution, Washington, DC
The Iowa Arts Council Outstanding Achievement Award
Recipient (along with his wife, Betty) of the Anderson Ranch 2004 Service to the Arts Award. Aspen, CO
Awarded Studio at Red Brick Center by Aspen/ Arts Council